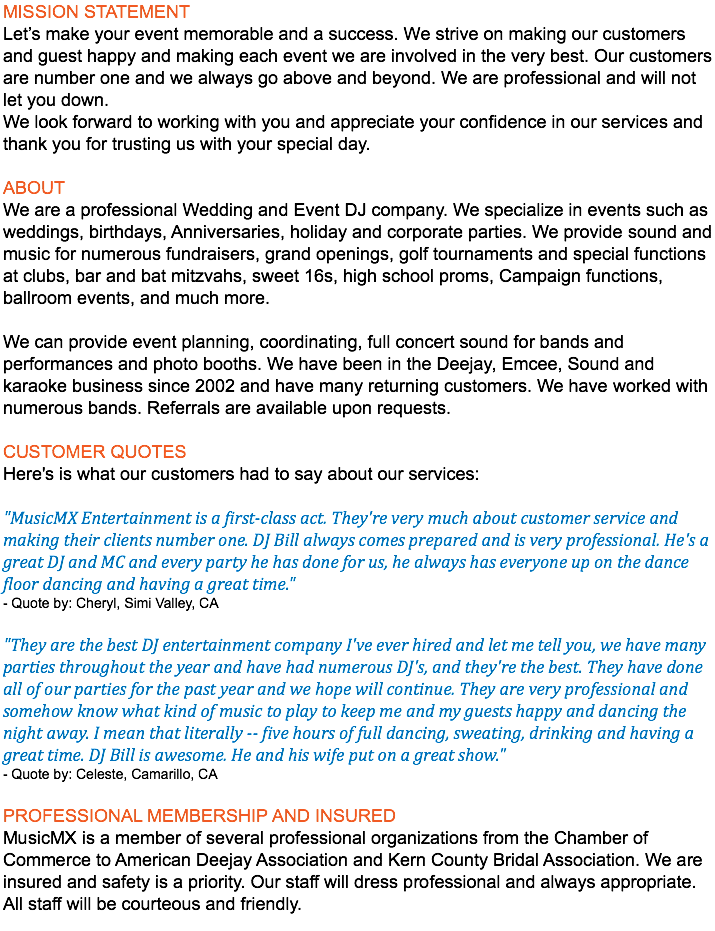 Sound, lighting, Video & photobooths
Professional Grade Equipment
Name brands such as JBL, QSC, Pioneer, FBT, Renkis Heinz, Shure and Sennheiser
Professional deejays, Video and sound technicians
Our staff is required to have proper training, a professional attitude and go above and beyond for our clients and guests. We have years of experience working with bands, non-profit and for-profit organizations and for community events. All staff wear appropriate clothing for your event, from our logo shirts to suits or tuxedos.
We have several full sound systems and all equipment is inspected prior to set up. In the event a backup is required, we have backup systems and personnel for most all events.
Licensed, Insured & member of several Professional memberships
• American Bridal Association
• American Deejay Association
• Chamber of Commerce
MusicMX is dedicated to providing our customers with professional quality sound, lighting, Video and Photo booths. We always go above and beyond to make your event memorable and successful.
Designed by MUSICMX (805) 368-1185