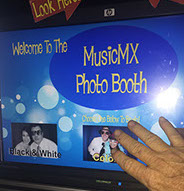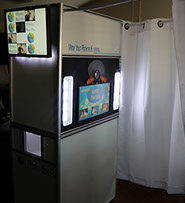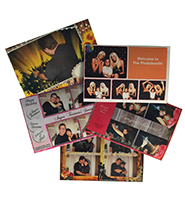 ABOUT OUR PHOTOBOOTHS
Let the Fun Begin!


MusicMX can provide a Enclosed or Open Air Photo Booth for your next event. We offer fun props, custom print sizes, and alternate color options such as color, Black and White or Sepia. Choose your custom background and layout for your pictures.
Make your event memorable for your guests and family. All Photo Booth rentals come with a CD of all pictures taken in our booth and downloadable versions online.
CLOSED PHOTO BOOTH
Our premiere Closed Photo Booth comes with a Classic Premiere Theme. From the Red Carpet and Red Velvet stanchions to an external preview screen for guests to continuously view photos of your event.

This booth can allow Individual guests to take pictures, send video messages, or can accommodate a group of people. Simple pull the curtains back and add your whole family!
OPEN AIR PHOTO BOOTHS
Want a simple setup where all guest can see and be a part of the fun. Our open Air Booths are perfect for your Step and Repeat displays or Green Screen with custom backgrounds.
GREEN SCREENS
Add the Green screen option and we can put our guests anywhere on the planet or beyond! This option is perfect for your themed event.
VIDEO PHOTO BOOTHS
Our Video option can allow you to leave a message for your guests, or let your guests leave a video message to you.
SOCIAL NETWORKING AND EMAIL
Guest can pick an option to have their pictures posted on Facebook or emailed directly their email.
JOIN IN THE FUN AND SHARE MEMORIES OF A LIFETIME
Sound, lighting, Video & photobooths
Professional Grade Equipment
Name brands such as JBL, QSC, Pioneer, FBT, Renkis Heinz, Shure and Sennheiser
Professional deejays, Video and sound technicians
Our staff is required to have proper training, a professional attitude and go above and beyond for our clients and guests. We have years of experience working with bands, non-profit and for-profit organizations and for community events. All staff wear appropriate clothing for your event, from our logo shirts to suits or tuxedos.
We have several full sound systems and all equipment is inspected prior to set up. In the event a backup is required, we have backup systems and personnel for most all events.
Licensed, Insured & member of several Professional memberships
• American Bridal Association
• American Deejay Association
• Chamber of Commerce
MusicMX is dedicated to providing our customers with professional quality sound, lighting, Video and Photo booths. We always go above and beyond to make your event memorable and successful.
Designed by MUSICMX (805) 368-1185